Christina Sarli, Señor Pulpo
Chrisitna Sarli, Señor Pulpo, Installationview at Humboldt Universität zu Berlin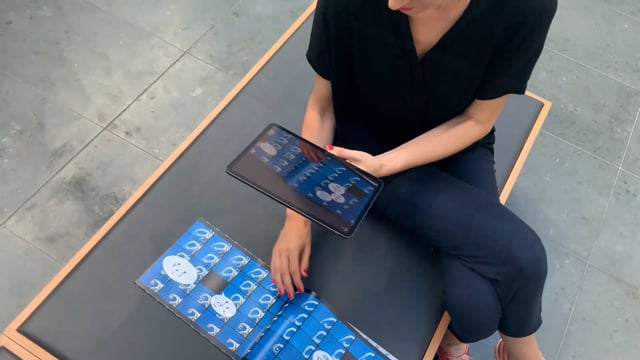 Señor Pulpo
2020
Hybrid AR Artist Book / Circular Poetry
Supporting developer: André Selmanagić
»Señor Pulpo« is a hybrid artist's book by Christina Sarli, organized in two parts. Each part tells the story of a common octopus from a different temporal perspective.
The first part features visual interpretations of eight of the seventy-three haikus – the haiku is the shortest form of poetry in the world – from Gabriel Rosenstock's collection »The Naked Octopus«. They depict the fantasies and adventures of an octopus that emerges from the sea to fulfill its abiding love for a human woman in eight acts. Afterwards, she cruelly kills and eats him. The images are augmented with 3D animations that interpret the near-death experience of an octopus in color and sound—rendered as day or night
versions, depending on the time of interaction. The second part is an augmented reality comic that provides the background for the central near-death experience described before: the capture and cruel handling of the animal—still alive—according to traditional practice. The story ends with the last memory of our hero, Señor Pulpo: the appearance of the fisherman's beautiful wife. Within the augmented reality, a close-up function has been implemented: the closer you get to the images with your mobile device's camera, the more digital content you will discover—coded functions that act as an invitation to influence the material in a participatory way and to decode hidden content ever more deeply.

Text: Christina Sarli and Maja Stark